If you're looking for a flooring solution that is durable, easy to maintain, and family-friendly, epoxy flooring is the answer. Here are some of the benefits of installing epoxy flooring in your residential home:
Family-Friendly
Epoxy flooring is a great choice for families with children and pets. It is resistant to scratches and stains, making it ideal for homes with active kids or pets. It's also resistant to spills and chemicals, making it the perfect solution for garages, where oil spills and other chemicals are common.
Improved Safety
Epoxy flooring is slip-resistant, making it a great choice for homes with elderly residents or children who may be more prone to slips and falls. It can also improve safety in areas like the garage or basement where spills and moisture may be present.
Vehicle-Friendly
Epoxy flooring is a great choice for homes with vehicles, boats, or motorbikes. It is resistant to tire marks and other types of damage, ensuring that your floors look great for years to come.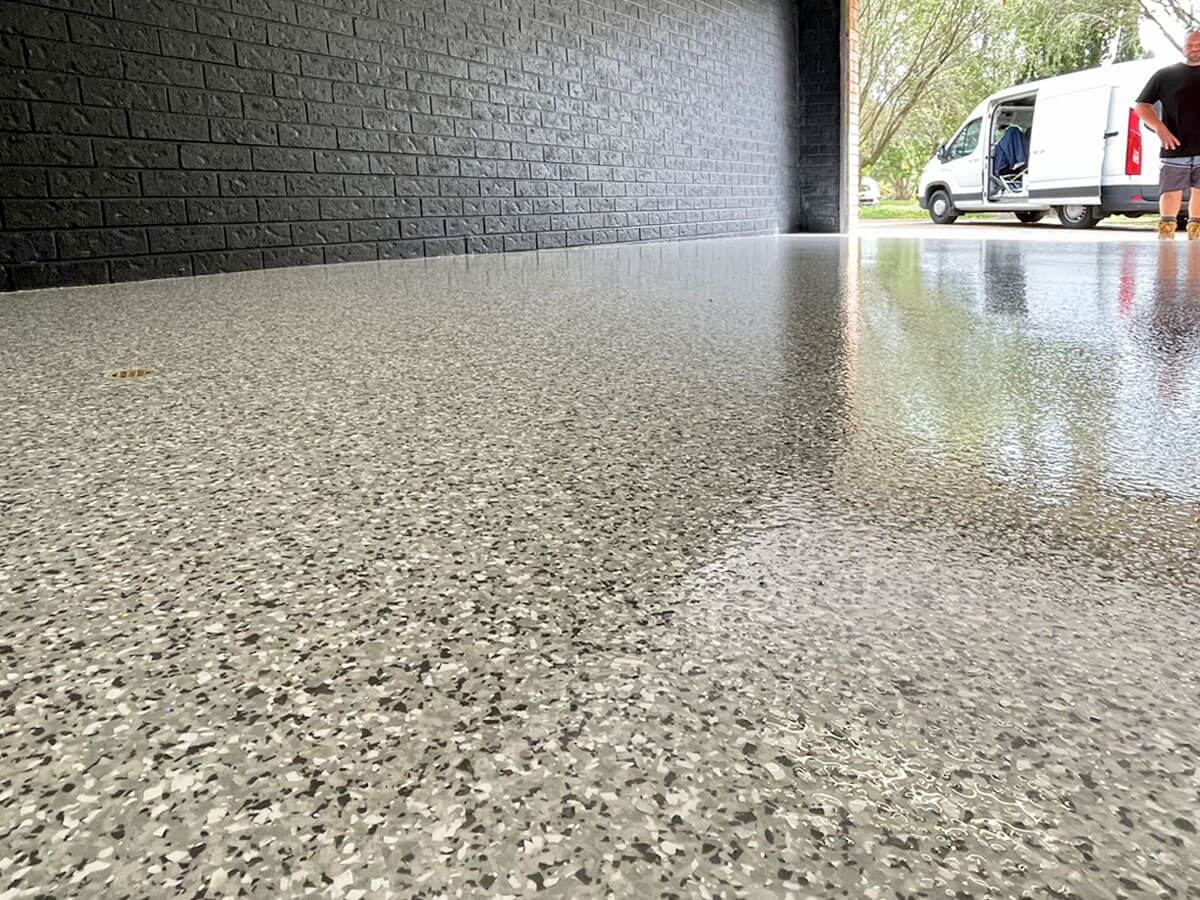 Freshly Installed Garage Epoxy Floor
Durability
Epoxy flooring is incredibly durable and can withstand heavy foot traffic, spills, and stains without showing any signs of wear and tear. It is the perfect choice for high-traffic areas of your home, including entryways, kitchens, and living rooms.
Easy Maintenance
Epoxy flooring is easy to maintain, requiring only occasional sweeping or mopping to keep it looking its best. Unlike traditional flooring options like carpet or hardwood, epoxy flooring doesn't require regular deep cleaning or maintenance.
Versatility
Epoxy flooring is available in a wide range of colors, patterns, and finishes, allowing you to customise your floors to match your unique style. Whether you want a bold, vibrant color or a subtle, natural finish, epoxy flooring offers endless design possibilities.
Custom Epoxy Flooring Design Home Interior
Epoxy flooring is the perfect flooring solution for families. Its durability, easy maintenance, family-friendly properties, versatility, improved safety, and vehicle-friendliness make it the perfect choice for any homeowner looking to upgrade their floors. Contact us today to learn more about how epoxy flooring can transform your home.