Epoxy flooring has been a popular choice for many residential and commercial spaces for decades. However, like any other flooring type, epoxy flooring trends come and go. In recent years, we have seen some exciting new trends emerge in the world of epoxy flooring. In this blog post, we will explore the top epoxy flooring trends that are making waves in the industry this year.
Epoxy Flooring Trends in 2023
Metallic Epoxy Flooring
Metallic epoxy flooring is a trend that has been growing in popularity in recent years. This flooring option utilises metallic pigments mixed with epoxy resin to create a unique and eye-catching finish. The result is a glossy, high-end look that can resemble anything from marble to lava.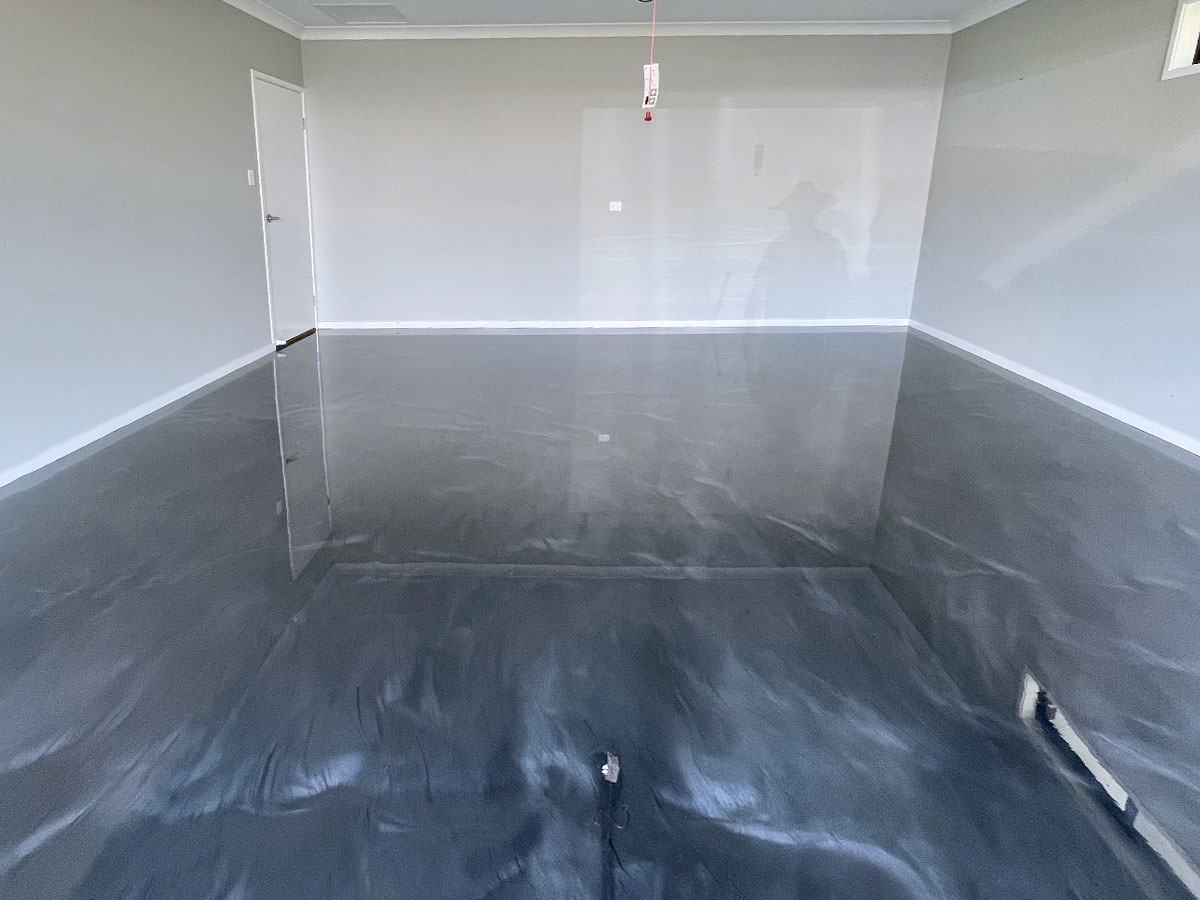 Metallic Epoxy Flooring
Hyper Flake Epoxy Flooring
Hyper Flake is a blend of paint chips that mimics the look of a polished concrete floor. We have seen this epoxy flooring system become more popular inside homes this year. Hyper Flake epoxy flooring is durable, versatile, easy to clean and brings sophistication to your home.
This epoxy flooring system can be finished in an essential, crystal or diamond finish. A crystal or diamond finish requires additional coats of clear epoxy glaze to minimise the texture of the flake and to enhance the look of the floor. We recommend a crystal or diamond finish indoors to not only add that extra gloss look, but to offer your floor more protection, feel smooth under foot and easier to clean.
Glitter and Mica Flake Highlights
Adding Glitter or Mica Flake to your choice of flake blend has become increasingly popular in 2023. Clients can choose how much or how little Glitter or Mica Flake they'd like in their flake epoxy floor.  Adding either of these products helps to make your floor unique and luxurious.
Glitter or Mica flake has been used inside houses, pools, outdoor areas and garages. Contact us for real-life examples of how these products have been used to bring the wow factor to clients' spaces.
Epoxy flooring is a versatile and durable flooring option that can be customised to fit any design style. By embracing the latest trends in epoxy flooring, you can elevate the look of your home or business while also enjoying the benefits of a durable and easy-to-clean flooring option.
If you are interested in exploring popular epoxy flooring trends further or would like to learn more about epoxy flooring options for your space, contact us today. Our team of experts can help you find the perfect epoxy flooring solution for your needs.